Honeybread Easter egg
Exchanging Easter eggs is a tradition dating back to pagan times. In the past, they dyed eggs only with natural colourings and today the Pergers continue this fine tradition. The skilful hands of what is now already the 9th generation of Pergers have decorated honeybread Easter eggs for you – with each telling a special story.
8,99 €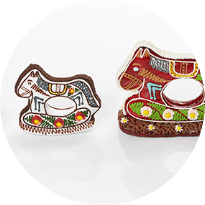 Your wishes are our challenge
We consider it an honour to cater to your desires regarding colours, the design, messages or even new shapes.