Honeybread peace dove
The Slovenian peace dove is a more recently designed honeybread product that may serve as an ideal wedding gift. In 2007, the Mayor of Slovenj Gradec became the Secretary-General of the United Nations Peace Messenger Cities, an organisation that brings over 88 countries together. To mark this prestigious appointment to such a humane organisation, the Pergers designed an original honeybread peace dove.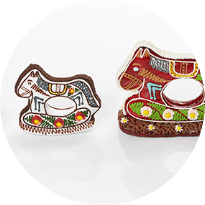 Your wishes are our challenge
We consider it an honour to cater to your desires regarding colours, the design, messages or even new shapes.