I Love You honeybread heart
Three words expressed in a special, unconventional way. Highlighted with a gentle white colour that not only pleases your loved one but also tells a lot about you. About you who seek to express your feelings in a special way – just like they used to do it in the past, yet still in a modern and very special way.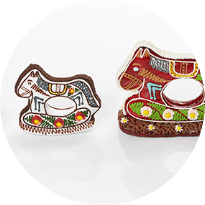 Your wishes are our challenge
We consider it an honour to cater to your desires regarding colours, the design, messages or even new shapes.