Little honeybread horse
A horse is a noble animal, whereas when crafted in honeybread it is one of the most traditional shapes our grandparents still remember. Small in size, it makes a wonderful decoration on your Christmas tree.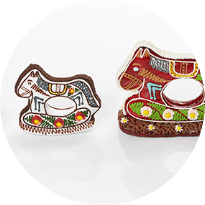 Your wishes are our challenge
We consider it an honour to cater to your desires regarding colours, the design, messages or even new shapes.