Set 5 in 1 gingerbread heart for luck 2021
5 x gingerbread heart 2021
Over the years, giving a mini double honeybread heart as a gift has become a tradition. Hand decorated according to tradition, it brings luck into every home.
Set 5 in 1 for a special price!
24,99 €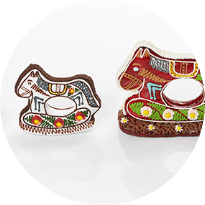 Your wishes are our challenge
We consider it an honour to cater to your desires regarding colours, the design, messages or even new shapes.